Discover more from Feed the Sensor
Evan's blog on tech, cameras, and the occasional cat.
Working with the Sony PMW-F3 in 2022
I didn't think I'd dive this far into the gear bin with this camera, but here I am wanting to use it daily for paid work.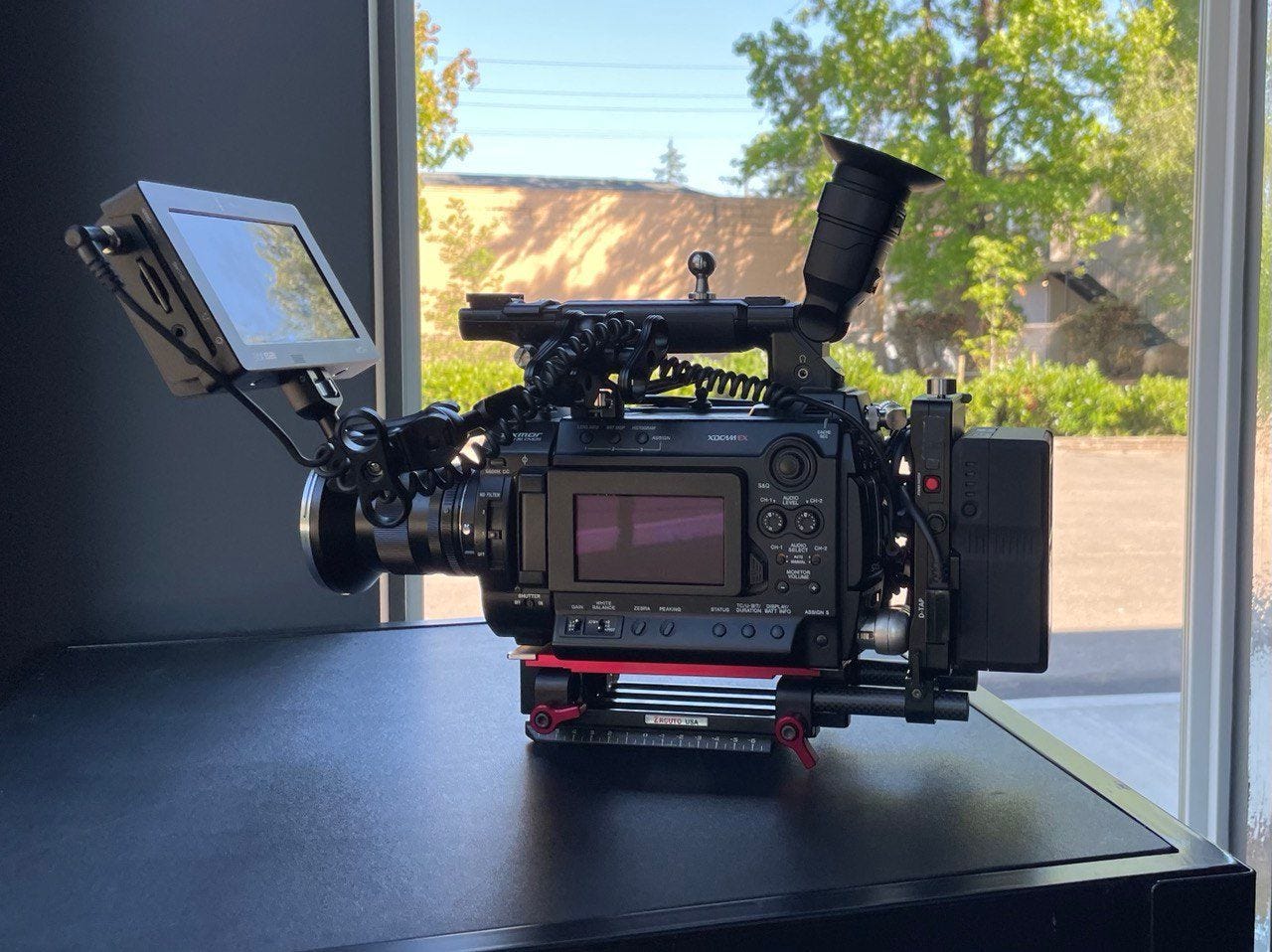 I bought the Sony PMW-F3 last summer after having watched a video on it by Caleb Pike over at DSLR Video Shooter on YouTube. I liked its size and functionality. The image, too, had a nice feel to it, at least on the videos that I could find. Most of the content for the F3 are limited to a half dozen videos on YouTube by people marketing it as "the budget camera to buy" off eBay. So, really, at the time that I bought the camera, all that I knew about its image was that it supposedly had a filmic look to it.
Fast forward to today and I've fully kitted out the camera with a baseplate, rails, matte box, V mount batteries, and a Blackmagic Design Video Assist 12G monitor for recording a clean 10-bit signal from the HD SDI port on the camera. I didn't think I'd dive this far into the gear bin with this camera, but here I am wanting to use it daily for paid work.
How I got here was with an initial idea to start another passion project but this time shoot it with the F3. The first project was a mini documentary I shot back in Connecticut on Damascus steel knives, which can be viewed on the Works side of my site. I shot that on the Z Cam S6. This new passion project is going to be a mini series on unique distilleries in Oregon. There are so many unique distilleries here all seemingly coming to life on the heels of the explosion in growth of the brewery industry. From hybrid grain whiskeys to brandies aged with unusual fruit, the way people are making liquor here is unique and something well worth documenting.
Hence the mini series on distilleries.
I had the first shoot a few weeks ago at Branch Point Distillery in Dayton, Oregon. We shot it on the Sony PMW-F3, recording externally in ProRes HQ with a Blackmagic Design Video Assist 12G for close to maximum record quality (you can use a Gemini or Odyssey for 444 recording, but they are hard to come by). I could not tell you enough how beautiful the image out of this camera looks straight out of camera.
I am using a custom LUT that I made for the camera that I will eventually upload once I tweak it a bit. There aren't many, if any, good S Log to Rec709 LUTs for the F3 on the Internet anymore, so I had to make my own.
Here are a couple shots from the F3 with the Rec709 LUT applied.
I am looking forward to using this camera more on this series and on paid projects because it makes just too good of an image. Excited.